Swimming Pool Services In Phoenix Arizona
We offer a variety of Pool Services for all of our clients located in and around Phoenix, Arizona.  If you need any kind of help with your pool give us a call first and talk with one of our friendly pool experts!
Pool Maintenance - Clear Brite Pools offers the most extensive Pool Cleaning & Maintenance Service in Phoenix , Arizona.  Our standard process takes into consideration everything your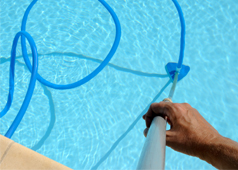 pools needs to stay clean, clear and blue.  No two pools are the same and your pricing will be determined by the size of your pool, filtration system, sanitation systems and landscaping around the pool.  You will receive a custom price based on your specific situation. We do this so that you are not charged for services you don't really need. We work directly with you and listen to what you want. Our goal is to meet your needs and keep your pool clear and brite.
Pool Repairs - Pool repairs can be tricky if you don't have the experience to isolate the issues and determine the best approach to solve the problem.  Our expert staff is well versed in all Pump/Motor systems, plumbing, heating, filters, sanitation systems, lighting, and leak detection.  When we do a repair for you, we talk with you about all your options and give you the information you need to make the right decision about your pool.
Pool Equipment Replacements – Sometimes repairing your pool systems does not always make sense.  When you have old and outdated pool equipment it might be more cost effective to replace certain parts instead of spending the time trying to repair.  We are honest and have grown our business by treating our customers right, you can trust that we will never recommend replacing your pool equipment unless it makes sense from a performance and price standpoint.  We replace, Pump/Motors, plumbing systems, filters, heaters, sanitation systems and anything else related to your pool.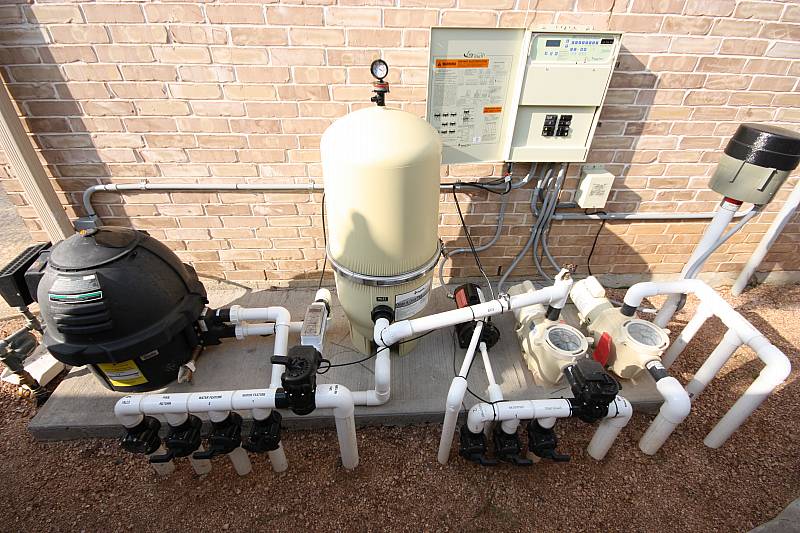 Pool Equipment Upgrades – If you have an older pool system you might not know how much money your really loosing down the drain.  Newer equipment is energy efficient and made much better than the products available even 5 years ago.  Upgrading your pool system and certain pool equipment is similar to driving a huge truck with horrible gas mileage as opposed to a hybrid car.  Look past the up front costs and take into consideration the long term savings and enjoyment.  Upgrades can include making your pool safer by limiting chemicals used and going to a cleaner efficient pool.  We can upgrade your pool to saltwater, freshwater, and UV treated water which are all way less harmful than chlorine pools and more cost effective way of sanitation than adding a chemical to the water.  Call us and let us help you figure out what the best Upgrades to your pool system are!  
Learn more about your pool and check out The Pool Guide!

Pool System Installations - We install new pool systems from start to finish.  We offer the best equipment and understand how to make your pool run efficiently and what it needs to stay clean.  If you are considering installing a pool filtration system make sure you aren't getting more than you need or products that aren't of quality.  We have no deals with any manufacturers so we aren't biased.  We use the products that are best for our clients.  Lets talk about what your looking for and we will help you determine the best most cost effective approach.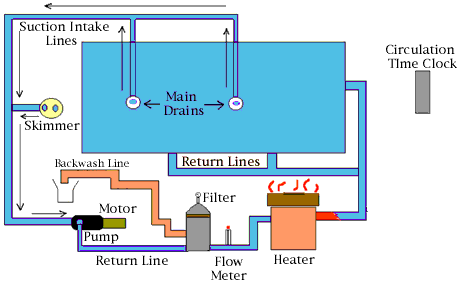 New Pool Start Ups -  When you are opening a new pool, most people just want the pool in working condition ASAP.  No one wants to worry about getting the water levels right or making sure the chemicals are balanced to insure a healthy balanced pool chemistry.  We have the experience and knowledge to get your pool clean and healthy. On top of setting up your pool we can also show you steps you can take to help maintain your pool.  From getting your pool filled up with the right water to testing all the equipment, we can make sure your pool gets set up right the first time so you can hurry up and jump in the pool!  New Pool Start Ups.