Pool Repair Services for Phoenix Arizona Residents
We handle a wide variety of pool repairs.  Whether you are having equipment problems or leaks we are the right company for you.  Our friendly and knowledgeable staff are trained in all swimming pool repairs.  Most of the time you will call us and might not exactly know what is wrong but you can hear a louder noise than normal or visibly see something change in the clarity of the pool.  We can ask you questions to narrow down whats wrong so we can come to your house better prepared, we are experts at pool repair diagnostics.
Most of the time repairs for a pool consist of the equipment used to run the pool.  Like all mechanical parts in the world today pool equipment breaks down over time.  Maybe you are experiencing a leak or the pool isn't filtering properly.  There are many signs that you need a pool repair, you should be able to notice something isn't right.  When you sign up for our weekly pool maintenance program we will go over everything you should be looking out for.  Below is a list of most of the pool equipment repairs we get in and around the Phoenix AZ area.


Pool Repairs

Pool Motors/Pumps – Is your pool pump/motor loud and old? You might not know but new technology has made them so quiet that some of them are almost silent!  They will also circulate water more efficiently saving you money! We even offer a variable speed pump that can cut your energy cost upwards of 90%!!! Even if your not sure whether or not your pump and motor system for your pool needs a repair, give us a call and let us help diagnose the problem.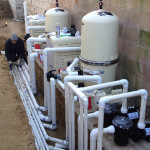 Pool Plumbing – You could have clogged pipes, possibly a leak or maybe the system wasn't set up efficiently.  If you notice water flow to and from your pool is down you might need to call us.  There hasn't been a pool plumbing repair we couldn't handle!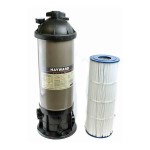 Filters – One of the easiest ways to dirty your pool is by neglecting your pool filter.  There are a few major filters in most pools today they are,  DE pool filters, cartridge filters or sand filters.  It has to be cleaned multiple times a year and also will need to be replaced periodically just like you replace the air filters in your home.  We are trained to be able to determine whether your pool filter should be cleaned or replaced.  We give you the facts and let you decide.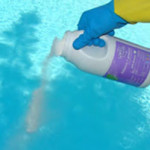 Sanitation -  Improper sanitizer usage can cause disease. If you are not using enough sanitizer such as chlorine or bromine in your pools or spas, you could be asking for trouble. Disease causing bacteria and viruses are all part of the swimming pool environment during the summer months when water is warm or when water is heated such as with a spa or heated pool.  If your levels are improper we can help you solve the problem.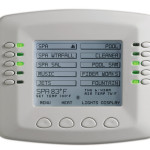 Automation systems – No one has a pool so that they can experience problems, you have one to enjoy.  So scheduling and operating the filtration cycles or heating times for your pool should be easy and programmed.  With automated control systems you can control how ofter the equipment runs and at what times of the day. Its as easy as pushing a few buttons.  The rest of your life is high tech and wireless and that doesn't seem to be changing, why wouldn't your pool system run the same way?
Heaters - Even though we live in a really warm environment you still need a pool heater if you want year round usage day and night. Pool heaters allow you to heat your pool to a comfortable temperature that will allow you to swim in almost all weather conditions in Phoenix. Now you'll never have to consider how cold it is when choosing to go for a dip. We can repair your heater system to insure your pool heating system is running properly and efficiently.  Heaters can be one of the more complicated repairs when it comes to your swimming pool, a licensed professional is strongly recommended. So whether your pool is using natural gas or propane be cautious.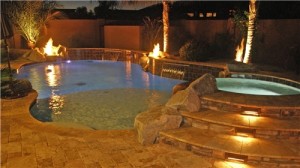 Pool Lights – Lighting for pools is almost essential, though you don't have to go over board its pretty nice for night time use. Pool lighting has come a long way and the options you can choose from are endless based on what you want, you can get much more than just regular lighting to see. Whether you want standard incandescent and halogen light or a multi colored lighting system that allows you to turn the pool water into an awesome light show, we repair your pool lights so they work properly and can upgrade your pool lights if they are broken.  Just like light bulbs in your home, pool light bulbs have become more efficient as well.  Sometimes it makes sense to upgrade versus repairing or replacing with the same older products.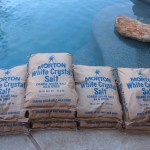 Salt Pool Systems – Some people are hesitant of Salt Water pools as they think they are so much riskier and harder to maintain.  Let it be known now, when you use the Pool Services of Clear Brite Pools It's safe, effective and automatic. Say goodbye to chlorine, this is done with Salt now!  We understand how Salt water pool systems work and run we repair and upgrade Salt water Systems and sanitizers for all Phoenix residents.
We diagnose your pool repair problems and come up with the best options to meet your needs.  Our ultimate goal is to keep your pool running and without problems.  Let us show you why our customers stay with us for life!  We also offer weekly pool cleaning.
Our company is quick to respond, honest, and competitively priced.  If repairs go on without getting fixed then other problems can occur. For example, your pool light gasket is leaking water in the fixture, If that doesn't get addressed quickly the water can actually damage the entire fixture and triple the repair costs. If a damaged pump basket gets overlooked and its not replaced in a timely manner, the clogged debris can burn the motor up and require getting a replacement motor. If a leaking seal doesn't get fixed right away water can get through and burn the motor up.  Unfortunately pools require repairs and repairs need to be addressed immediately!  That's what are job is, to be on call to make sure you can enjoy your pool.

We provide Pool Repair service in and around Phoenix Arizona.
We do pool repairs in Cave Creek Arizona and also do pool repairs in Scottsdale Arizona.